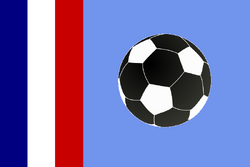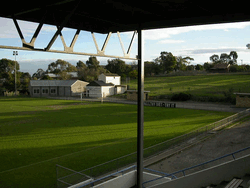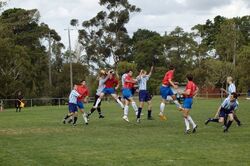 The Oceana Derby is an annual football derby between all Oceana football clubs, namely FK Swat Lews from Hurbanova, Sheckin Lads from East Hills, and Scotland FC from Hurbanova. The derby was invented in April 2010, as an answer to the long inactivity of the national football competitions. The clubs have never played against each other, as the formation from Hurbanova has played only one match since its foundation in 2008 and because Sheckin Lads wasn't meant to be a club that would play against other clubs, but only a club where locals would play against each other.
Hurbadome
Edit
The Hurbadome in Millstreet, Hurbanova, is the biggest venue of the derby with a capacity of 850. It's the home base of the local football club FK Swat Lews and Scotland FC. The soccer stadium is relative new and has also been used for concerts and other evenements.
East Hills Sports Facilities
Edit
The East Hills Sports Facilities is a sport complex which consists out of one soccer field and a tennis court. Having an official capacity of 80 supporters, it's the smallest venue in entire Lovia. Besides, it's also the oldest Lovian soccer field, existing since the Second World War. In 1998, the venue was renovated.
FK Swat Lews
Edit
FK Swat Lews, also known under the former name FC Hurbanova, is the most famous club of the derby, having participated in the LSCA Major Soccer League of 2008. Unfortunately, the league has remained unfinished and as a result of that, the Hurbanovans have played only a single match. However, the Hurbanovans are eager to come back in professional competitions.
Sheckin Lads
Edit
Sheckin Lads is a club with a rich history in Lovia. It was founded in the 50s by Jamal Hustróva, sr. to create more leisure activites in his hamlet for his mine laborers. Until now it has been a significant meeting place for locals. Although the expectations are becoming bigger as Alexandru Latin invested a lot of money in 2010 to attract better players.
Scotland FC
Edit
Scotland FC Lovia's oldest soccer club from 1901, which use to play in the now extinct Hamlet of Scotland. The club is mostly made up of Oceanic-Scots, or really anyone who is Scotland. The team also plays rugby on occasion but mostly plays soccer. The team doesn't play much anymore excpet for the Oceana Derby and even missed the Oceana Derby 2010.
Even though Scotland FC was suppose to appear they didn't but would said they would play in the Oceana Derby 2011. The winner FK Swat Lews won on aggregate 10-3.
Ad blocker interference detected!
Wikia is a free-to-use site that makes money from advertising. We have a modified experience for viewers using ad blockers

Wikia is not accessible if you've made further modifications. Remove the custom ad blocker rule(s) and the page will load as expected.