Oceana
Talk

59
2,870pages on
this wiki
See also: Oceana (disambiguation) for more meanings of 'Oceana'.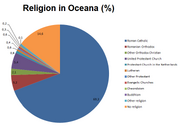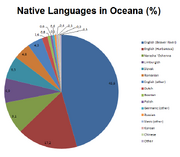 The State of Oceana or Oceana (Oceana: Oshenna or That Harven, IPA: [oˈʃɛnʲɑ], [tʰatˈɦɑːʁvən]) is one of the states of Lovia. The Isles of Frisco and London and the southwestern part of Peace Island are situated in Oceana. The capital town is Hurbanova. Oceana is known because of its beautiful forests. The people of Oceana are called Oceana.
Just south of Oceana is a beautiful coral reef called the Oceana Reef (or That Riffe) Diving in this area is possible. For more information visit the Diving Center.
Before 1882, the region was known as Collinia and from 1882 to 1905, it was simply known as West Sylvania.
Oceana has four major economic branches. Most capital comes from the mining industry (36%), followed by agriculture (25%), tourism (17%) and fishery (14%). In 1900 this was different: mining industry (41%), fishery (32%) and agriculture (26%). In recent times fishery has become less important, because of legal restrictions, while tourism now plays an important role for the people of Oceana.
Cities and towns
Edit
Islands and Reefs
Edit
Islands
Reefs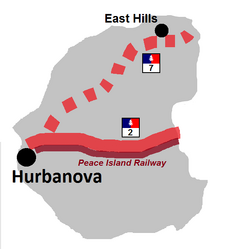 Tourism is one of the most important ways of income for the state. There are many tourist attractions, mainly natural, but also cultural in the capital, Hurbanova.
Hotels and campgrounds
Edit
References and notes
Edit