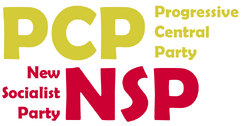 The New Socialist Party (NSP) was a leftist Lovian political party. The party was founded by Sven Plemming in 2008 as Lovia Galps. That same year, party chairwoman Alyssa C. Red reformed the party and its agenda. The party became environmentalist and socialist and then entered a coalition with the largest party of Lovia, the Progressive Center Party. Currently, it has merged with its coalition partner into the Progressive Democrats party and no longer exists as an independent party or faction.
Ideology & Agenda
Edit
The New Socialist Party's agenda was mainly socialist and environmentalist. Its viewpoints on socialism are explained in Alyssa C. Red's book A New Vision on an Old System. The main viewpoints are:
The party supports and defends the rights of the working class. It also wishes to establish a working social system; the party thus is socialist.
The party supports a green and ecological policy. It also supports efforts to protect the Lovian nature.
The party supports the current governmental situation and unity of the country. Therefore the party cannot be considered revolutionary.
The party defends a mixed market economy and civil freedoms. More generally, the party defends the liberal freedoms.
The party wishes to protect Lovian culture and heritage.
The party was sometimes criticized by other socialists for claiming to be socialist, who claimed that it was more a social democratic party and did not support a socialist revolution.
Notable members
Edit
See also
Edit
Ad blocker interference detected!
Wikia is a free-to-use site that makes money from advertising. We have a modified experience for viewers using ad blockers

Wikia is not accessible if you've made further modifications. Remove the custom ad blocker rule(s) and the page will load as expected.