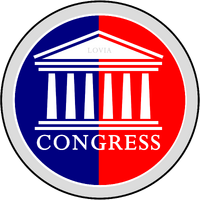 These are the archives of the First and Second Chamber of Congress.
Archives
Edit
Archive "One": Constitution, First Amendment
Archive "Two": Charity Fund Act, National Parks and Monuments Act, Patriot Act, Federal Police Act, Local Police Act
Archive "Three": Recognizing Kosovo, Laborers Act, Federal Police Act, Local Police Act, Second Amendment, Leaving UWN
Archive "Four": Third Amendement[1], Town and City Act, Hamlet Act, Union Act[1], Founding and joning the IWO
References and notes
Edit
↑ 1.0 1.1 This proposal never reached the Second Chamber.
See also
Edit
Ad blocker interference detected!
Wikia is a free-to-use site that makes money from advertising. We have a modified experience for viewers using ad blockers

Wikia is not accessible if you've made further modifications. Remove the custom ad blocker rule(s) and the page will load as expected.