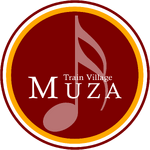 Muza was a Lovian Train Village neighborhood, with the theme music. Cars were forbidden in the neighborhood; one could take bus route 600 Train Village-Clave Rock or the train from Little Frisco. Muza had both a flag and a seal. The Chairman was George Matthews. The neighborhood was home to the multi-sport club the Walker Cavaliers, based in the Occidental Arena. Muza was demolished in 2009 due to major structural problems, such as poverty and derelict buildings, and bad quality homes. Six homes were spared and were rebuilt as farms for commercial use. The inhabitants were affectionately known as Muzas and at its height there were 1,344 of them. Train Village West Railway Halt was in this neighborhood.
Muza was build in 1929 as a small workers community to make up for the space problems in Train Village. Due to the small houses in a rustic community, were people can life without publicity many musicians came here in the 1930's.
Muza Culture
Edit
The most important Musical cultural arrived around 1965, when the firt ever music festival was held in the famous Music Park. The cocert has headlined by Jefferson Airplane. The area soon became a popular tourist atrraction for people to come see alot of Indie artists and other local and Lovian bands. The area continued it's local popularity with the Music Park allowing certain areas for acoustic performances. During the hip/hop and more techno type of music arose in the 80's, the area soon opened up many night clubs and concert performances from many local DJ's. The momvent of rap caught on here more than other areas in the world, some artists which would later become famous first performed in some night clubs in Muza like, Snoop Dog and Biggie Smalls. The rock and alternative revoultion came back and fused with the rap genre to make the Sixtheenth Note Festival, named after the seal of Muza, which started in 1997. The festival has included such bands like 30 Seconds to Mars, Paramore, Green Day, and Nine Inch Nails. Other rap artists that have been there are Kanye West, Jay-Z and Eminem. Local bands have also had the opportunity to perform in the festival. Some bands have also gone on later to have sucess like First Fold Then Tear and Coastal Trees.
Famous inhabitants
Edit
See also
Edit
Ad blocker interference detected!
Wikia is a free-to-use site that makes money from advertising. We have a modified experience for viewers using ad blockers

Wikia is not accessible if you've made further modifications. Remove the custom ad blocker rule(s) and the page will load as expected.