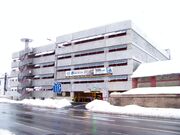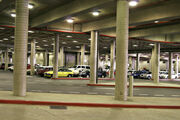 Multi-storey Car Park Hurbanova (abbreviated MCPH), is a Lovian multistory car park building in downtown Hurbanova. Its main function is to house cars. The old car park was often fully occupied on bank holidays and market days. Therefore plans were proposed to demolish the building and to place a new car park that would be even higher and larger and which therefore should be able to house more facilities. However, after long discussions it was still unclear whether there would come a new car park. In November 2009 the mayor of Hurbanova decided to start the destruction of the multistory car park, from that time the local people temporarily had to park their cars at the site of the former Hotel North, but as the new MCPH, designed by Oos Wes Ilava, was opened on March 8, 2010, the people no longer had to use the demolition site as their parking spot.
The car park is run by the Oceana State Government and charges L$1,50 per hour.
See also
Edit
This article is a stub: a short article with a useful amount of information, but that should definitely be expanded.
You can help Wikination by expanding it.
Ad blocker interference detected!
Wikia is a free-to-use site that makes money from advertising. We have a modified experience for viewers using ad blockers

Wikia is not accessible if you've made further modifications. Remove the custom ad blocker rule(s) and the page will load as expected.