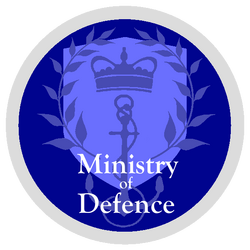 The Ministry of Defense is a Lovian federal ministry. The ministry's job currently is improving and maintaining the Federal Police, although other tasks are expected to arise in the future. The Ministry of Defense was founded on February 1, 2012, the day of the Inauguration of the Ilava I Government and 2012 Congress. The ministry began operations the next day. The incumbent Minister of Defense is Judy Almore (UL).
List of Ministers of Defense
Edit
Occupations
Edit
Federal Police
Edit
Main article: Federal Police.
Currently the Ministry of Defense puts the majority of its effort into managing the Federal Police. They normally assign a Commissioner after elections and then proceed to reform the Police as they see fit and as well as adjusting staff pays and introducing or changing legislation associated to the Federal Police. They also are responsible for the funding of the Federal Police.
Legislation
Edit
The Ministry of Defense also works towards legislation concerning national security. It is one of the foremost responsibility of the Minister of Defense to provide advice on all bills concerning national security, the federal police or matters which relate to these. As a member of the Government they should provide legislative assistance to fellow government bills.
See also
Edit
Ad blocker interference detected!
Wikia is a free-to-use site that makes money from advertising. We have a modified experience for viewers using ad blockers

Wikia is not accessible if you've made further modifications. Remove the custom ad blocker rule(s) and the page will load as expected.