Miguel Castillo y Espada
Talk

0
2,873pages on
this wiki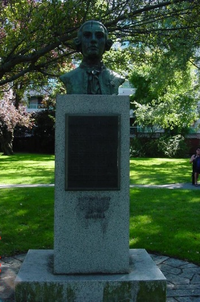 Miguel Castillo y Espada (ca. 1730- ca.1778) was a Spanish-American explorer, and possibly an early explorer in Lovia.
Biography
Edit
Castillo was born around 1730 in modern-day Nayarit, Mexico. He became a sailor with the Spanish navy in the 1750s. In 1775, he joined an expedition by Bogeda y Quadra and Bruno de Heceta to thwart Russian claims to the Pacific northwest. In mid July Heceta, under which Castillo served, returned towards Mexico while Bodega y Cuadra continued towards Alaska. In a storm, Castillo and several others (no more than six) were thrown overboard. The ship's boat was sent to rescue them but flipped over. It was eventually upturned but by then had become distanced by the ship. Left for dead, the four survivors continued. According to Castillo (the only literate member of the group, who kept a diary) they reached a group of three islands, which they named Las Concepciones. They made it to shore, but were chased away by a bear. They headed west and eventually reached a pair of islands. They passed through a narrow straight and a round island, coming to a peninsula. There they landed and made camp. There two of the men, Vargas and Martínez, ate some poisonous berries and died shortly afterward. Castillo and the other surviving member, Ordonez carried on by boat in a southwardly direction. Picked up by a Russian ship, they were taken to Alaska. The pair eventually made it back to New Spain in 1776.
Castillo's diary is the only written account of this expedition. It was passed down in his family, but mostly kept away from public eyes. It was only until 1905, when the book was sol to a collector, that word of it got out. News also reached Lovia and Sir George Coningham, a prominent supporter of Castillo's voyage, purchased the book in 1908 to display in Lovia.
For many years, historians have debated Castillo's voyage. The Concepciones islands he mentions do not exist, as they have not been found near the Pacific coast. It is, however, possible that he did come to Lovia, and possibly landing in the Stephen Headland. Old 18th-century artifacts were found there in the 1960s, but some claim they were planted afterwards by fanatics. Most of Lovia's historians have agreed that his voyage is indeed plausible, although not all think that he could have actually done it. In Charleston, he is officially recognized as the "founding father" and first settler.
See also
Edit