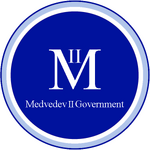 The Medvedev II Government is the previous federal government of Lovia from February 1, 2010. It was named after Yuri Medvedev, then-Prime Minister. It was the second elected government since the signing of the Constitution in 2007 and was preceded by a provisional Congress and the Medvedev I Government. It was officially inaugurated on Inauguration Day 2010 after being elected in the Federal Elections. The government had a balanced composition that reflected the elections well. Medvedev II was succeeded by the Donia I Government.
Composition
Edit
Elections
Edit
Main article: Federal Elections, 2010.
Main article: Mid-term Elections, 2010.
References
Edit
↑

Until June 11 this department was held together with the Department of Energy & Environment

↑

A reform proposal has been made in the Second Chamber, which would reform the REAC into a three-member institution without appointments: two Secretaries and the Prime Minister would constitute the REAC.
See also
Edit
Ad blocker interference detected!
Wikia is a free-to-use site that makes money from advertising. We have a modified experience for viewers using ad blockers

Wikia is not accessible if you've made further modifications. Remove the custom ad blocker rule(s) and the page will load as expected.