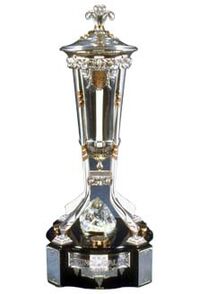 The Masters Cup is a football trophy presented by The National Post to the football player with the most goals in the LSCA Major Soccer League. Previosly it was awarded to players in the now-defunct LFA Supercup.
When Lovian footballer David Masters died in 1982 many Lovians wanted the LFA to make a tournament to commemorate him. They decided not to do so, but The National Post was interested in doing this. Soon, they changed their mind and decided to make a trophy for the player with the most goals in the LFA Supercup. In 2005 with the Supercup's demise the trophy was shelved but the award was reinstated when the LSCA Major Soccer League was founded in 2008.
The players with the most victories, three, are James Masters, Petr Gambrin, Alan Denley and Stefan Kamphuis.
List of winners
Edit
Ad blocker interference detected!
Wikia is a free-to-use site that makes money from advertising. We have a modified experience for viewers using ad blockers

Wikia is not accessible if you've made further modifications. Remove the custom ad blocker rule(s) and the page will load as expected.