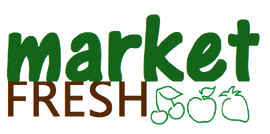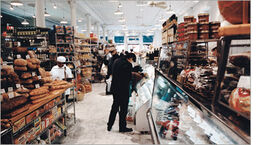 Marketfresh is a food market specializing in natural, organic and gourmet foods. It is owned by Maxi Group although it operates independently from its supermarkets.
Marketfresh is there to bring high-quality, natural and organic foods to your table.
Marketfresh was founded in 1978 as a small and local shop in Carrington, Brunant, selling healthy local foods. The company became characterized in the 1980s and 1990s for gourmet, high quality food. In the 2000s they became a leader in organic and natural food and over 50% of their products are certified organic. In 2004 they became the first major foods chain in Brunant to get rid of plastic bags and replace them with canvas bags. In 2012 they expanded to Lovia, opening its first stores in Hurbanova and Noble City. Marketfresh is looking to open in Traspes.
Locations
Edit
Most of Marketfresh's products come from Brunant and Europe. Many of these products cannot easily be had in Lovia, and some, like Kirkenberg ham, only at Marketfresh.
Kastel Berlare (organic olives)
Marqués De Riscal (wine)
Rapunzel (organic chocolate)
Crazy Goat (organic chocolate)
Viola (organic olive oil)
Aroma (organic and fairtrade coffee)
Ad blocker interference detected!
Wikia is a free-to-use site that makes money from advertising. We have a modified experience for viewers using ad blockers

Wikia is not accessible if you've made further modifications. Remove the custom ad blocker rule(s) and the page will load as expected.