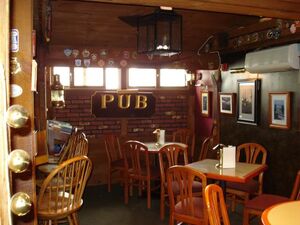 The Mariners Pub is a restaurant chain consisting of two pubs and eateries. The restaurants are located in Kinley and Sofasi. The pubs are owned by Seaman's Ale Brewing Co, a part of Federal Foods Inc. The first pub (in Kinley), was originally frequented by sailors and seamen, as well as harbor workers. Nowadays, it is a popular place to have a bite, or have a drink.
The Mariners Pub serves a variety of seafood, as well as some non sea items.
Clam Chowder - $8.00
Caesear Salad - $9.00
Shirmp Cocktail - $12.00
King Crab - $18.00
Grilled Calamari - $12.00
Sea Salad - $11.00
Freash Oysters - $15.00
Black Cod - $20.00
Salmon - $18.00
Yellow Fin Tuna- $26.00
Alaskan Halibut- $18.00
Diver Scallops - $15.00
Grilled Shrimp - $11.00
Surf & Turf - $20.00
New York striploin, shrimp, fresh fish and mash potatoes - $25.00
Fresh Lobster- $24.00
Good food, cozy atmosphere. Would recommend to people wanting an authentic "seaman's experience".

-Cinq Etoiles
Ad blocker interference detected!
Wikia is a free-to-use site that makes money from advertising. We have a modified experience for viewers using ad blockers

Wikia is not accessible if you've made further modifications. Remove the custom ad blocker rule(s) and the page will load as expected.