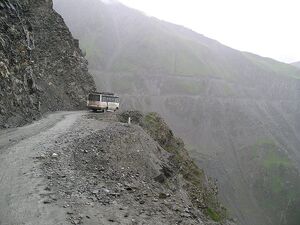 Marauder's Pass is an 805m (2652ft) high road in the Abby Highlands of Kings. This is Lovia's highest road and also the most dangerous. This road forms part of the Second Stage of the Vickers Sprint Rally. Numerous people have died on it, most notably Princess Natalie of Lovia (driving a 1953 Alfa Romeo)
Ad blocker interference detected!
Wikia is a free-to-use site that makes money from advertising. We have a modified experience for viewers using ad blockers

Wikia is not accessible if you've made further modifications. Remove the custom ad blocker rule(s) and the page will load as expected.