Magna Augusta (nickname and Oceana: Donitz, IPA: /'donits/) is a Lovian hamlet in the state of Oceana, in the Oceana Emeralds district. Magna Augusta is located in the Emerald Highlands area, close to the Donia Castle, which is located in Sylvania. It lies in between Boynitz and East Hills, but is only easily accessible from Sylvania and from East Hills via a small, rocky road.
Demographics
Edit
Of the 286 inhabitants of the Oceana Emeralds district, 87 live in Magna Augusta. According to the 2014 census, the racial make-up of Magna Augusta was 87 white (100%); ethnically there were 61 Lovians (70,1%) and 26 Oceana (29,9%). The first-language distribution was recorded as 79 English (90,8%) and 8 Oceana (9,2%). The distribution of religious affiliations was 45 United Protestant (51,7%), 38 Roman Catholic (43,7%), and 4 with no religious affiliation (4,6%).
Inhabitants
Edit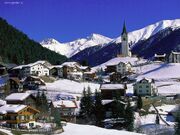 Magna Augusta, also known as The Icecold Heart Of Lovia is a sleepy snowy village on the border of Oceana and Sylvania. It is largely located on the Oceana side, however a part of the town is situated on the Sylvanian side. This includes the intimidating Donia Castle. The church of the town is located on the Oceana side, however the school is on the Sylvanian side. Therefore locals have their children educated in Sylvania, and have their souls saved in Oceana.
Environment
Edit
Magna Augusta is located in the Emerald Highlands. It lies in the hills near the That Logue river valley on the Massive of the Kings. The center of the built-up area is located at approximately 300 to 350 meters high.
There are no statistics available on employment. It is likely that the hamlet is (almost) fully dependent on income from the Donia Castle.
Politics
Edit
Now follows the voting results for the local State Elections:
Transportation
Edit
There is no public transportation to the hamlet.
See also
Edit
References and notes
Edit
↑ Oceana Demographic Center (2014), data for the hamlet's area.
↑

Magna Augusta did not yet exist at the time of these elections.

↑

People living in Magna Augusta were registered in other places, mainly in Sylvania, and as a consequence did not vote in these elections.