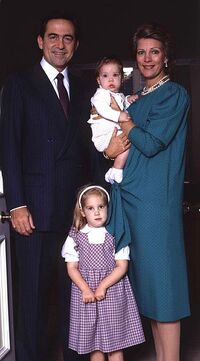 Lucy Caroline Van Draak Nobel
(born 1942) is a Lovian newspaper editor. She is the highest-ranked Lovian in the
Brunanter line of succession
, just behind the previous monarch's descendants.
Lucy Caroline is related to both the Lovian and Brunanter royal families, as both her grandfather (by blood and marriage) and father (blood) were members of the two families. She is 22nd in the line of succession to the Brunanter throne. She was named after Princess Caroline Amelie (of Brunant), her grandmother and Queen Lucy I, her adoptive grandmother (and the only one she ever knew). She is a niece of Prince Thomas, and a cousin of King Dimitri I.
She married Hans Emanuel Nobel, of the Swedish Nobel family, in 1976. They had one son, Hans Nobel, and a daughter, Mary Sylvania, who died in a car accident in 2008. They also have two grandchildren, Eduard Nobel and Anita Nobel. In 2002, she became an editor for The National Post.
Ancestry
Edit
This is the blood-related ancestry of Lucy, therefore it does not show her adoptive relatives such as Queen Lucy I.
 
Lucy Caroline Van Draak
Father:
Pieter Joseph Van Draak
Prince of Lovia
Paternal Grandfather:
King Joseph
HRH King of Lovia
Paternal Great-grandfather:
Prince Philippe
Count of Flanders
Paternal Great-grandmother:
Princess Marie
Princess of Hohenzollern-Sigmaringen
Paternal Grandmother:
Princess Caroline of Brunant
Paternal Great-grandfather:
Pieter II
King of Brunant
Paternal Great-grandmother:
Sophie of Mecklenburg-Schwerin
Mother:
Juliana Gábor
Maternal Grandfather:
László Gábor

Maternal Great-grandfather:
? Gábor

Maternal Great-grandmother:
Unknown
Maternal Grandmother:
Carina Zichy von Vásonykeö Batthyany (Gábor)
Maternal Great-grandfather:
Theodor Zichy von Vásonykeö Batthyany
Count of Bátthyany
Maternal Great-grandmother:
Unknown
Note: White colored boxes: Foreign royalty or nobility
Note: Cornsilk colored boxes: civilian