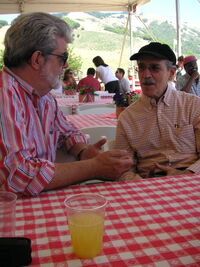 The Lord European Sport Association or Lord, abbreviated LESA, is a Lovian popular multi-sport club, founded May 28, 2008. Currently the club has three sports related occupations: pétanque, darts, table tennis, and Lovian boules. It is often seen as the successor of the West End Petanque Association, though the LESA denies this as a result of WEPA's bad name. The club was founded by Doris Stern and is based in the area covering West End LR, New Town and Artista. Its so-called "headquarters" are the Sycamore Maple Court in Long Road.
The club's name is derived from the name of the Noble City axis running through Long Road, the Lord Axis.
The Association is nationwide known to be a very open-minded group, that is tolerant towards all origins. Its members usually are of European, Latin American, or Arabic descent, but regard themselves as one large group of Lovians.
LESA is a LSCA member.
The sports club currently offers its members three sports:
pétanque, boules
darts
table tennis[1]
Greco-Roman wrestling[3]
LESA already planned to expand their sports assortment with several other sports, mostly European, though the club says it will not feel restricted to European sports only. Some of the sports named for expansion are: tennis, and village cricket.
Doris Stern (founder) (petanque, darts, Lovian boules)
Arthur Jefferson (petanque, darts)
Ingvar Pennington (petanque, table tennis)
Toon Fields (table tennis)
Stephen Onassis (petanque, Lovian boules)
Vladimir I. Shuvalov (darts)
Anthony Smith (petanque, darts)
Jamal Paul Thierry (petanque)
Paul Thurman (petanque, darts, table tennis)
Prince Dimitri (petanque, Lovian boules)
George Matthews (petanque, darts)
Jack Thurman (petanque, Lovian boules)
Andy McCandless (petanque, Lovian boules)
Marcus Villanova (Lovian boules, table tennis)
Ygo August Donia (darts, Greco-Roman wrestling)
Martha Van Ghent (Lovian boules)
Jhon Lewis (Lovian boules, darts, petanque, table tennis)
Edward Carew (Lovian boules, darts, petanque)
Niels Liberty (darts)
join LESA!
...
References and notes
Edit
See also
Edit
Ad blocker interference detected!
Wikia is a free-to-use site that makes money from advertising. We have a modified experience for viewers using ad blockers

Wikia is not accessible if you've made further modifications. Remove the custom ad blocker rule(s) and the page will load as expected.