Long Road Olives

There will be plenty of olives

Name
Long Road Olives
Type
Farm
Product
Olives
Origin
Long Road , Noble City
Founded
2008 by Lars
Owner(s)
Æsop (100%)
Headquarters
See below
Profit
n.a.
Long Road Olives Farm is Æsops Lovian farm with olive trees claimed to date back to Roman times. The farm is based in Long Road, Noble City.
The olive trees at Long Road Olives originate from Thasos (Greek: Θάσος), a Greek island in the northern Aegean Sea, close to the coast of Thrace and the plain of the river Nestos. Æsop's ancestors used to deal with olives and olive trees, cultivating them since ancient times as a source of olive oil, fine wood, olive leaf and olives for consumption.
Olive oil is the fruit oil obtained from the olives and commonly used in cooking, cosmetics, pharmaceuticals, and soaps and as a fuel for traditional oil lamps.
Nutritional facts
Edit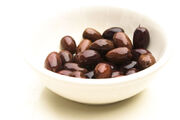 Olives are high in Monounsaturated fat, iron, Vitamin E, and dietary fiber.
The naturally ripened purple/black appearing olives from the Long Road Olives Farm contain anthocyanins and the typical processing of the harvest has an important effect on the quantitiy and the type of anthocyanins in the olives.
Artificially ripened "black olives" that are typically found in cans do not contain these anthocyanins.
The International Olive Oil Council (IOOC), the intergovernmental organization based in Madrid, Spain, with 23 member states, promoting olive oil around the world just recently took notice of the Æsop's Long Road Olives farm.
The Greek poet Homer called it liquid gold.
To Æsop, olive oil is the source of healthy living, linked to a reduction in the risk of coronary heart disease inspiring him to create wonderful dishes.
In view of the heavy competition luring behind the corner, Æsop decided to keep his farm for private use only. It is his intention to show visitors around the property and to share his passion for olives and olive oil.
Tastings
Edit
Æsop welcomes visitors to the on site Olive bar serving olives and olive oil from the estate.
Kalamata (named after the city of Kalamata, Greece) is a large, black olive of a smooth and meatlike taste, used as a table olive.
Koroneiki (originating from the southern Peloponese, around Kalamata and Mani in Greece) is a small olive. Difficult to cultivate, but with a high oil yield and producing olive oil of exceptional quality.
External links
Edit