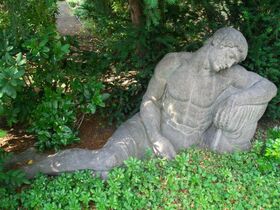 Long Road Cemetery is Lovia's largest burial ground and is known as the cemetery on which most famous Lovians are buried. It is located in Long Road, Noble City and dates back more than hundred years. The cemetery is not connected to a religious philosophy or organization.
A remarkable gravestone next to the entrance path has been the subject of theories and speculations. The gravestone has been here for a long time; a silent witness to many funerals, and has been seen as the guardian of the mortal beloved ones.
Notable burials
Edit
Ad blocker interference detected!
Wikia is a free-to-use site that makes money from advertising. We have a modified experience for viewers using ad blockers

Wikia is not accessible if you've made further modifications. Remove the custom ad blocker rule(s) and the page will load as expected.