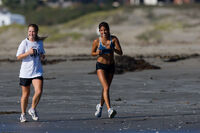 Lo Rothschild (born September 1, 1991) as Charlotte Rothschild, is a Lovian tennis player. She began her professional career in 2008.
When she plays double, she plays with Anna Smith, an another famous tennis player.
Family and personal life
Edit
Charlotte is the younger sister of Lovian jazz musician and singer Em Rothschild.
She was named after the English writer Charlotte Brontë. According to a 2008 interview, Lo dislikes her birth name and the association with Brontë. She has adopted the shorter "Lo" at an early age.
Charlotte enrolled Blackburn University, Noble City in 2009, but has announced to quit and focus on her sports career.
See also
Edit
Ad blocker interference detected!
Wikia is a free-to-use site that makes money from advertising. We have a modified experience for viewers using ad blockers

Wikia is not accessible if you've made further modifications. Remove the custom ad blocker rule(s) and the page will load as expected.