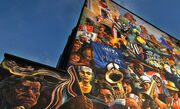 Little Frisco Market is a market in Little Frisco, Noble City. The stalls at the market sell many products including food, clothing, jewelry and furniture and records. It is very popular with tourists, and also university students.
The market is known for its large and colorful murals which adorn the walls of the market.
Market layout
Edit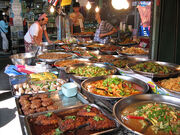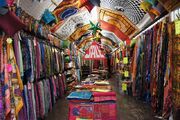 The market is roughly divided into three sections, the Arcade, the Old Market and the New Market, each of which sells a differing range of products.
The Arcade
Edit
The Arcade is the smallest, but one of the most popular areas of the market. It is the first section of the market after the entrance, and many of its wares are sold at small shops rather than stalls. The Arcade caters mainly to tourists, and sells a wide variety of clothes, souvenirs, art and records. There are also several good restaurants at the Arcade, including The Big Jerk, La Bodega, The Leicestershire Pie Company and Dos Padres.
The Old Market
Edit
The Old Market, as the name suggests is the oldest part of Little Frisco Market. It was founded in 1974, and sold a wide variety of local produce. Although a wide variety of local produce can still be bought in the Old Market, stalls selling street food are particularly popular there. The Old Market is known for its excellent Chinese, Vietnamese, Caribbean, Spanish and Indian street food, as well as its delicatessen.
The New Market
Edit
The New Market was founded in 1992 and offers a range of arts, crafts, antiques, jewelry and clothing. Most of the traders at the New Market hand make most of their products, and so are extremely proud of them. The New Market sometimes offers good bargains on vintage fashion and antiques.
Ad blocker interference detected!
Wikia is a free-to-use site that makes money from advertising. We have a modified experience for viewers using ad blockers

Wikia is not accessible if you've made further modifications. Remove the custom ad blocker rule(s) and the page will load as expected.