This is the full list of Governors of Sylvania, the first Governor Bruce Kennedy being elected in 1905. The incumbent Governor is Lukas Hoffmann (CNP).
The most recent elections were won by candidates from varying parties in all states. Lukas Hoffmann won the state from Villanova with a small margin of victory however maintained a lead throughout the race except when he was briefly overtaken at one point due to east Sylvanian voters casting their votes, Hoffmann was endorsed by William Krosby and Christopher Costello who supported his campaign in the state and was allied with the Green Party during the elections. Marcus Villanova of the Labour Party is Hoffmann's Deputy Governor.
In history, many Sylvania Governors have been Mayors of the state capital, Noble City, or of Train Village. Since the 2010 State Reform, however, there are no more mayors in Lovia.
Another remarkable fact is that many of the Sylvania Governors were related to each other, or to other important officials. One of the best examples is the Pennington family: father James W. Pennington was Governor, his eldest son Robert became Governor about two decades later and James' daughter married a Lovian prince and became Queen of Lovia.
It is also notable that many of the Governors had many terms, often consecutive but often also not. Examples are Robert Pennington and Edward M. Roscoe.
Competencies and powers
Edit
According to the Constitution, it is the Governor's task to govern the state as far as "local government that does not interfere with federal law and government" is concerned. He or she is entitled to maintain urban parks, public places, streets, markets, roads, waterways and naturally, environmentally or culturally significant places. One of the Governor's powers is the construction and planning of neighborhoods and hamlets. It is also his task to inform the state population about the various aspects of government. The Governor takes up the role of an adviser in Congressial debates concerning his or her state.
Timeline of governors - click to expand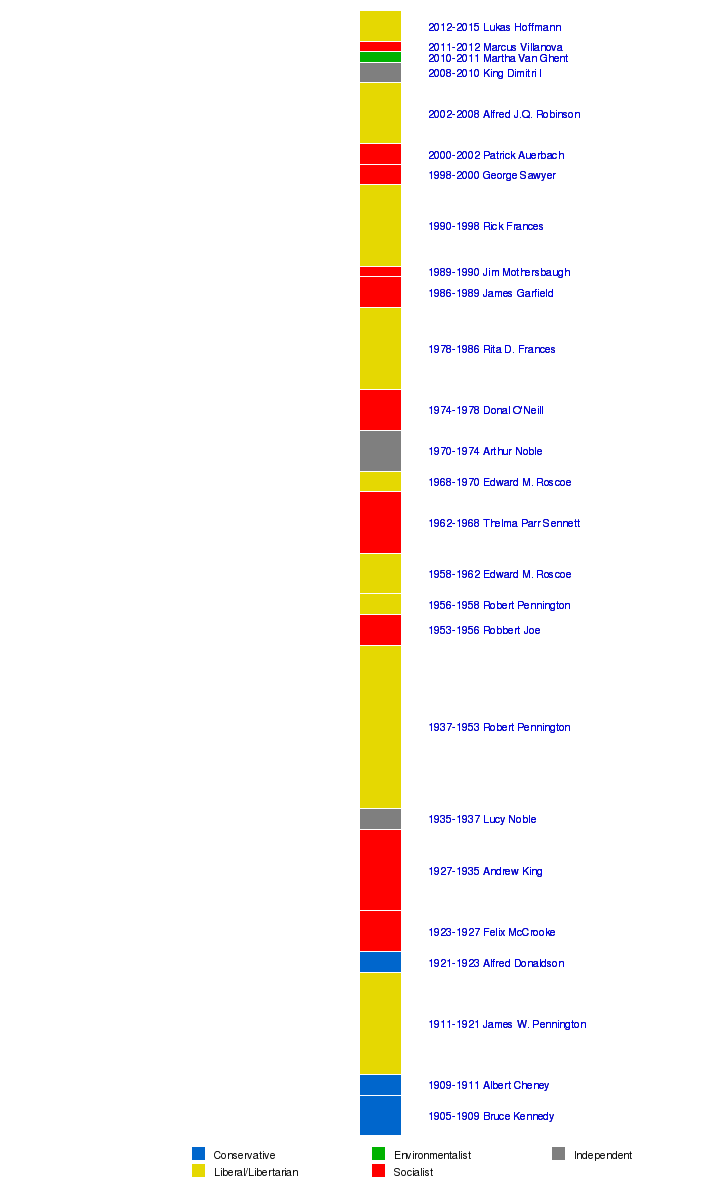 See also
Edit
Ad blocker interference detected!
Wikia is a free-to-use site that makes money from advertising. We have a modified experience for viewers using ad blockers

Wikia is not accessible if you've made further modifications. Remove the custom ad blocker rule(s) and the page will load as expected.