Lisney is a small village in Clymene located northeast of Sofasi. With a population of around 516, it is one of the larger small settlements in the state. Like Milerose, Lisney was created during the 1950s suburban expansion and is thus home to many modern houses.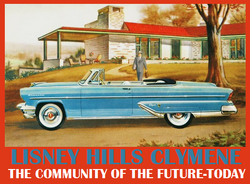 Lisney was founded in 1955 during the suburban boom in North America. The whole community was planned and became known for its modern houses.
The Lisney Hills Community began construction in April 1955 and was finished in November. A 'Lisney Hills' billboard was erected outside of town, showing modern houses, cars and a 'perfect' 1950s family in order to attract more residents. Lisney Hills was renamed to Lisney in 1963 but the hamlet maintained their sign.
A small clinic was built in Lisney in 1976 to increase quality healthcare. Pauline K. Roberts Clinic is now under the Clymene Healthcare Service and provides free medical attention and cheap prescription drugs.
Demographics
Edit
Lisney has a population of 516 people, gaining village status in 2013, since population had risen above 500. Most residents are of British or American origin, about 45% each, with the majority of the remainder being Dutch.
Financially, the average income in the hamlet was L$31,805 per person (L$33,110 for males and L$30,500 for females). Households had a combined average income of L$55,630 for 2010.
Lisney is moderately religious, with 62.2% having a religion. 37.8% have no religion or do not actively practise it.
FOR SALE
Willow Drive 1A
SHOP FOR SALE
Pine Street 1
*1
McDonald's Family Restaurant
Pine Street 2
FOR SALE
Cottage Drive 1
*2
Newland Church
Cottage Drive 2
FOR SALE
Willow Drive 7A
FOR SALE
Willow Drive 1
FOR SALE
Willow Drive 3
Derrick Wrexley
Willow Drive 5
FOR SALE
Willow Drive 7
Newland Park
Willow Drive 9
Willow Drive
Lisney Town Hall
Willow Drive 2
Lisney General Store
Willow Drive 4
SHOP FOR SALE
Willow Drive 6
SHOP FOR SALE
Willow Drive 8
FOR SALE
Willow Drive 8
Pauline K. Roberts Clinic
Blueflower Road 1
FOR SALE
Blueflower Road 3
FOR SALE
Blueflower Road 5
RESTAURANT
FOR SALE
Blueflower Road 7
Blueflower Road
Grammar School
Blueflower Road 2
Herman Wrexley
Blueflower Road 4
HOTEL FOR SALE
Blueflower Road 6
SHOP FOR SALE
Blueflower Road 8
FOR SALE
Blueflower Road 10
FOR SALE
Blueflower Road 12

*1- Pine Street
*2- Cottage Drive
Ad blocker interference detected!
Wikia is a free-to-use site that makes money from advertising. We have a modified experience for viewers using ad blockers

Wikia is not accessible if you've made further modifications. Remove the custom ad blocker rule(s) and the page will load as expected.