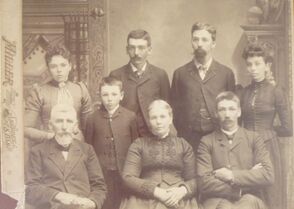 The
Lewis Family
is a well-known British-
Lovian
family. The family was to live in Lovia since 1935. The founders of the Lewis Family in
Lovia
where Francis Lewis Sr. and Martha Cotton. The most famous members are
Jhon Lewis
and
Hans Yard
.
Practically everyone in the family is an roman catholic.
The Lewis Family is trust with:
the Moreau Family
the Yard Family
the Ramsley Family
the Anderson Family
the Huys Family
the York Family
the Carlson Family
the Johnson Family
the Evans Family
the Smith Family
the Cole Family
the Cotton Family
the James Family
the Adams Family
the Thompson Family
the Richards Family
the van Draak Family
Family tree
Edit
Francis Lewis Sr. (1820-1904) x Martha Cotton (1827-1894)

Francis Lewis Jr. (1843-1947)
Charles Lewis (1845-1918) x Catheryn Richards (1846-1931)
Martha Lewis (1846-1924) x Thomas James (1845-1934)

Thomas Lewis Sr. (1881-1969) x Helene Thompson (1880-1943)

Helene Lewis (1910-1948) x Stephen Adams (1910-1940)
Margareth Lewis (1913-1941)
Adam Lewis (1920-1945)
Thomas Lewis Jr. (1922) x Elizabeth Carlson (1924-2006)

James Lewis (1946) x Marion York (1947)

Jhon Lewis (1973) x Katrine Johnson (1973)

Sam Lewis (1998)
Emma Lewis (1999)

Elisabeth Lewis (1976) x Marion Evans (1976)

Jessica Lewis-Evans (1999)
Olivia Lewis-Evans (2000)

Mary Lewis (1948) x Peter Yard (1948)
George Lewis (1949) x Lilly Pennington (1947)

Samantha Lewis (1978) x Robert Brown (1975)
Charlotte Lewis (1980) x Damien Moreau (1974)

Martin Moreau (2004)
Caroline Moreau (2006)
Lisanne Moreau (2007)

Joyce Lewis (1951) x Mark Huys (1947)
Robert Lewis (1955) x Henrietta van Draak (1959)
Family records
Edit
The oldest family member is Francis Lewis Jr. who lives from 1843 until 1947. He was 104 years old. The newest member is Rebecca Huys. She was born in 2012. The greatest family were the four children of Thomas Lewis Sr. and Helen Thompson. They have four kids: Helene, Margareth, Adam and Thomas Jr.
Lewis Family coat of arms
Edit
The designers of all the coat of arms of the Lewis Family were British or Canadian coat of arms makers. The following coat of arms are virtual. The real coat of arms are not virtual.
The currently coat of arms is using since 1951. After every world war, there was a new coat of arms.
Ad blocker interference detected!
Wikia is a free-to-use site that makes money from advertising. We have a modified experience for viewers using ad blockers

Wikia is not accessible if you've made further modifications. Remove the custom ad blocker rule(s) and the page will load as expected.