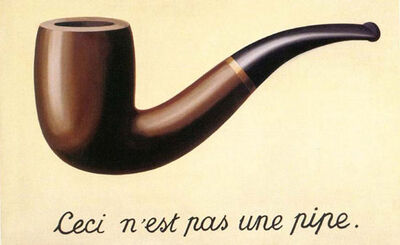 La Trahison des images (1928–29) is a painting by the Belgian René Magritte, painted when Magritte was 30 years old. The picture shows a pipe. Below it, Magritte painted, Ceci n'est pas une pipe, French for "This is not a pipe." The painting is not a pipe, but rather an image of a pipe, which was Magritte's point. It was acquired by the Museum of Art in 2001. It is located in the Salon Rene Magritte.
2003 Theft
Edit
On October 2003, three major Magritte works were stolen at the MOA. The Discovery of Fire, Presence and La Trahison des Images were taken during a well planned operation by professional art theives. The paintings were susequently found.
Ad blocker interference detected!
Wikia is a free-to-use site that makes money from advertising. We have a modified experience for viewers using ad blockers

Wikia is not accessible if you've made further modifications. Remove the custom ad blocker rule(s) and the page will load as expected.