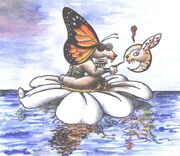 The Lars Washington Fan Club, abbreviated LWFC, is a Lovian fan club of one of the most famous Lovians, Mr. Lars Washington. The club has been founded by Oos Wes Ilava on June 29, 2008.
Why Lars Washington?
Edit
The fan club of Lars Washington agrees that he is one of the best Lovian statesmen, cultural persons, writers, and philosophers. He brings culture, nature and education to all places he goes. He is a very wise man, who is always friendly and who thinks very positively. He is one of the secrets why Lovia is such a strong country and community. The mystical Lars Washington is the number one Lovian!
Calender
Edit
This section shows the planning of the LWFC for 2008.
December 25 - Celebration of Christmas together with the club members. We'll sing Christmas carols, like " dzhingel bels".
December 31 - Celebration of old year but we don't make use of fireworks becaue that's dangerous and we don't go too late to bed.
See also
Edit
Ad blocker interference detected!
Wikia is a free-to-use site that makes money from advertising. We have a modified experience for viewers using ad blockers

Wikia is not accessible if you've made further modifications. Remove the custom ad blocker rule(s) and the page will load as expected.