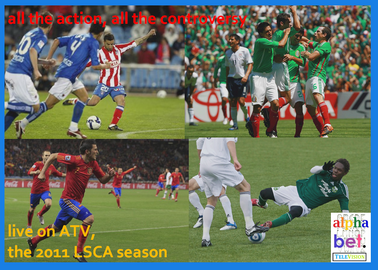 The LSCA Major Soccer League 2012 was a follow up to the highly appriciated LSCA Major Soccer League 2010 (as there was no 2011 tournament). There were talks about a second division for regulated teams but this fell through, ultimatley the League would continue to choose the first division teams.
First Division
Edit
Preseason
Edit
See also: 2012 Preseason
The preseason started in late January 2012, with only two games played. In the first game the returning champs played against FK Galatic Hurbanova, which was not chosen to play in the first division and were in talks to play in the possible second division. The game was won by Hurnanova, surprisingly, 3-2. The second game included the Oaks of Kinley with the Walker Cavaliers, which ended in a 1-1 tie.
The season unlike the ones, in years past, included one group.
3 points = Win
1 point = Draw
0 point = Loss
X = Clinched Playoff Spot
Ad blocker interference detected!
Wikia is a free-to-use site that makes money from advertising. We have a modified experience for viewers using ad blockers

Wikia is not accessible if you've made further modifications. Remove the custom ad blocker rule(s) and the page will load as expected.