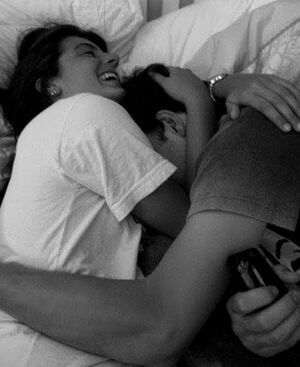 Konikaami no Konikaami is a Lovian synthpop/indietronica duo from Noble City, Sylvania. Konikaami no Konikaami was founded in 2010 and has released two albums on TCBA Records. The band consists of Linda Marseille and Lee Fielding. Konikaami no Konikaami is a nonsensical name, and according the band members, it has no meaning.
Konikaami no Konikaami is very popular in Artista and Little Frisco. They charted with their single "this_is_hard.core" in 2012, and garnered a lot of fans with a string of singles and releases the following year. Their music is inspired by the recent wave of bands that are boy/girl duos and indietronica like iamamiwhoami.
Konikaami no Konikaami's members live in Artista. Linda Marseille plays guitar and provides vocals, while Lee Fielding operates the drum machine, laptop, sampler, mixing pads and synthesizers.Fielding also provides additional backing vocals. When they perform, they ignore the audience and stare at the ground. Linda Marseille sings in a staccato voice and plays the guitar in an unique way, using open tunings and modified guitars. Their music is described as a cross between Sonic Youth, Crystal Castles and Depeche Mode.
Konikaami no Konikaami maintains a very stylized image online and on stage. They often dress in a way that complements the clothes of the other, and use the same design for all their releases, a big "K" on a fuzzy photo of an object.
In 2013 they released the movie "▲", together with Hyperkids Melody and Nothing The Black Celebration. The movie is a concept film about a love affair in downtown Sofasi.
Discography
Edit
Studio albums
Edit
Singles/songs with a music video
Edit
= On a Tone Factory Recommendation album


= On a Tone Factory End of the Year album


= On the Tone Factory End of the Year singles list
karkasch
i am alone iamalone
this_is_hard.core
sadorphanage
komikaaniorchestra - recording 1-19
trillbasch
SCREAMS
lowest of the low
death songs IV-XII
komikaani
kuoto
n
RULE0056
MIDI.SEX
kars on the road
hello world
Other works
Edit
Ad blocker interference detected!
Wikia is a free-to-use site that makes money from advertising. We have a modified experience for viewers using ad blockers

Wikia is not accessible if you've made further modifications. Remove the custom ad blocker rule(s) and the page will load as expected.