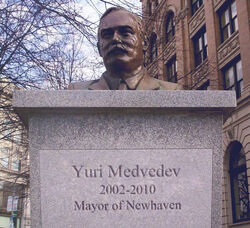 The King Lucas Park - sometimes called Pines Park - is actually a series of gardens laid out as part of the remodeling of Pines, Newhaven. The park also functions as an institute for botanical research, having several botanical gardens and lying close to farming enterprises. The dominant natural feature of the park is the sixteen-metre-high hill on which it lies. The park can thus be divided in the so-called lower gardens and the higher ones. The lower gardens consist out of botanical complexes and the arrangement of fountains for which the park is best known. East of the lower gardens lies the King Lucas Botanical Institute and a small living quarter. On the western end of the park, there is a piece of Pines natural forest which had been preserved for ecological reasons.
King Lucas Botanical Institute
Edit
The King Lucas Botanical Institute (KLBI) is an in 2010 created consortium between private investors and the Newhaven City Council. The Institute is considered the most important botanical center in Lovia because of its scientific importance and the size of its botanical collections. The institute occupies a new building that was constructed during the renewal of Pines. The building itself is in a neoclassical style and was designed to fit the buildings of the Northern quarters of Newhaven. Besides its scientific facilities, the building has an exhibition hall and a small auditorium. At present the botanical collection encompasses over 300,000 herbarium specimens. Both the collections and the specialized library are open to all researchers and farming companies that settle in Newhaven. The Institute is also home to a collection of natural curiosities like fossils and shells and a scientific, medical and pharmacological library.
The head of the Institute is Seamus McGullan IV.
From the left to the right: the botanical institute with the fountains; detail of the fountains (1); detail of the fountains (2); one of the outermost fountains.
Ad blocker interference detected!
Wikia is a free-to-use site that makes money from advertising. We have a modified experience for viewers using ad blockers

Wikia is not accessible if you've made further modifications. Remove the custom ad blocker rule(s) and the page will load as expected.