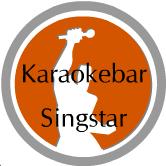 Karaokebar Singstar is a karaokebar in Little Europe, here especially current hits are proposed which public by means of large Lcd-scherm can sing along.
R&B is the mostly used music-genre in the Karaokebar, but other songs are possibly. See our Music list.
Courts & Spirits
Edit
We serve types also different Courts and spirits.
Non Alcoholic Spirits
Edit
This is a great place to be on a Friday night. The drinks are great, the ambience is lively and the music is good.

-Cinq Etoiles
Ad blocker interference detected!
Wikia is a free-to-use site that makes money from advertising. We have a modified experience for viewers using ad blockers

Wikia is not accessible if you've made further modifications. Remove the custom ad blocker rule(s) and the page will load as expected.