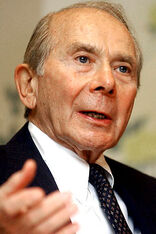 Joseph Ramsley
(1933) is a
Lovian
-
Brunanter
businessman. He was born to
Albert Arthur Ramsley
and
Anica Langerhol
. He was one of the founders of
Edison Electric
(now the
Lovian Energy Company
) in 1955. He took great interest in the family business and he worked in
Federal Foods Inc.
in the 1960s and 1970s, as the head of international operations.
First Marriage
Edit
He married Silvija Ilava in 1963 and had a son, Michal Ilava-Ramsley and a daughter, Rosa Ilava- Ramsley. But, in 1970, his wife Silvija died and he was in great pain.
Second Marriage
Edit
In 1978, he married model Andrea Blair and had one son, Thomas Ramsley and one daughter, Christina Ramsley (in 1981). They divorced in 1983 and he has not remarried. He came to Carrington Island that year to promote EE, and has since remained there.
Ad blocker interference detected!
Wikia is a free-to-use site that makes money from advertising. We have a modified experience for viewers using ad blockers

Wikia is not accessible if you've made further modifications. Remove the custom ad blocker rule(s) and the page will load as expected.