The content of this page or article is disputed.


Avoid adding or removing disputed content. Please discuss civilly on the page's talk page.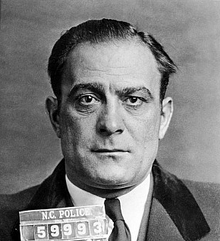 John Ský (22 March, 1908-19 November, 1985) was a Governor of Oceana and a crime boss.
Biography
Edit
Ský was born to Stefan Ský, a Slovak fisherman, and Anica Zurvic-Funk, a Polish dressmaker in Hurbanova. Sky had 1 brother, Peter Ský, and 7 sisters; Sofia, Anica, Marija, Kristina, Jovana, Rosalia and Ana. The family wasn't very rich, but made enough money to get along.
Criminal life
Edit
John became involved in criminal activities in the early 1930s, working for Vince Marcellis' (illegal) gambling and liquor operations. Befriending politician Hlan Kladevnlý (later mayor of Hurbanova), he was able to help him out in his political career by eliminating his enemies as serious contenders (several political opponents were killed in 1928 and 1929). Ský in turn acquired a monopoly on illegal liquor production and sales in Hurbanova for Marcellis. Despite not being of Italian origin, he was made boss after Marcellis' arrest in 1934. He would soon become one of the most important crime bosses in Lovia.
Political career
Edit
Ský's political career began in the 1940s under Governor Jonas Hladovka Jr., who was allegedly an associate of his. His failed re-election campaigns led to John's firing in 1949. When Gustav Dovedenia became governor (1953) he began to harass Ský, demanding payment in order to not shut down his illegal operations in the state. When several of his men were arrested by the Oceana State Police in a massive raid (March 1953) he had Dovedenia murdered and replaced him with Krabec Hustróva (though John was pulling the strings). Hustróva was removed from office and was replaced by Hlan Fromfields in 1954. Fromfields would soon turn against Ský but was quickly targeted on several occasions. After he left the state that year, Ský made himself governor. But, police were quickly closing in on him, and in 1955 he was arrested by police. He was in prison until 1973, when he was released.
Ad blocker interference detected!
Wikia is a free-to-use site that makes money from advertising. We have a modified experience for viewers using ad blockers

Wikia is not accessible if you've made further modifications. Remove the custom ad blocker rule(s) and the page will load as expected.