Jean-Jacques Telemann

Name
Jean-Jacques Telemann
Sex
Male
Born
1961, Paris, France
Home
King's Gardens
Functions
chef
Languages
English, French,
Religious
stance
Catholic
Jean Jacques Telemann (born 1961) is a Lovian celebrity chef and owner of the Bistro Stragata in Bayside. He is of Austrian and French descent.
Biography
Edit
Telemann's parents were middle-class workers living in Noble City. Since his family did not have lot of money, he had to go to the local public school. But, he would study and work hard. He became interesting in fine cuisine. and was able to study at the Cordon Bleu in Paris.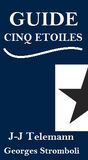 He returned to
Lovia
in
1984
and worked in the
Cabaret Le Baccarat
. He rose to sous-chef in 1987, and was chef in 1990. In 1996, he was hired by the
Olympia Hotel
to be their chef. In 1999, Telemann opened up his own restaurant, the highly successful
La Stragata
in
Bayside
NC
.
Chef Telemann has his own TV show, Chef Telemann, cooking with..., where he invites Lovian and foreign celebrities to cook with him in front of a live studio. He is also the co-writer of the Guide Cinq Etoiles.
He is married to Anne Bradly and have 2 kids, Louis and Isabel.