The content of this page or article is disputed.


Avoid adding or removing disputed content. Please discuss civilly on the page's talk page.
The Jacobian branch of the royal family of Lovia consists of Prince James, the third child of Arthur II, and his descendants. It is known as one of the more wild and scandalous parts of the family.
Prince James
Edit
Prince James of Lovia or James Anthony Noble (April 12, 1902 to July 26, 1957) was the third child of King Arthur II. He had two siblings, Queen Lucy I, and Prince Noah. James was born in 1902 to Arthur II and Queen Amelia of Lovia. Unlike his siblings, James was the adventurous one of the family, and was often getting himself in trouble. In 1924 the prince married Princess Catherine (1901-1973), a French cabaret dancer. Their marriage was slightly scandalous since she was 2 years older than him. They lived in Paris where he learned to fly, becoming one of the first Lovian aviators. They had three children, Caroline, George and Natalie. With kids, both parents became less "crazy" and more normal. The death of his father in 1938 was a turning point in James's life; upon returning to Lovia he became very serious and saddened. He took comfort in taking care of his mother and began painting (some of which are in the Museum of Art and the Lovian Museum for Modern Art). The death of his mother hit him seriously and he became ill. By 1950 he rarely left the house at all. Having taking up smoking in 1938, he died from lung cancer in 1957.
Princess Catherine
Edit
Princess Catherine of Lovia (born Catherine de Montbazon, 1901-1973) was a French noblewoman and a Lovian princess, after her marriage to James. Catherine de Montbazon was born in Tours to Philippe de Montbazon (1856-1917), the son of Camille Philippe Joseph de Rohan, the Duke of Montbazon. Her mother was Louise Demichel, a French socialite. Catherine was quickly bored of her stuffy, upper-class life and had dreams of running of to do something. When she was 19 she ran away to Paris to join a cabaret dance troupe. She married Prince James, a younger man, in 1922. They later had a daughter in 1934, Caroline, and three years later, George, and in 1939 Natalie. When James died in 1957 she lived alone until her death in 1973.
Princess Caroline
Edit
Princess Caroline was the eldest child of James and Catherine, born in 1922. Princess Caroline, like her siblings, became known as a wild jetsetter. She became a model and was involved in some racy photoshoots in the late 1950s. She was engaged to a Moroccan man in 1948 but he died in a plane crash over Italy in 1950. She later married Henry Chase. She and Henry had 2 kids, Louisa Chase(1944) and David Chase (born 1947). Caroline died in 1996 of old age, and was able to meet her 3 grandchildren and 4 of her great-grandchildren.
Prince George
Edit
Georges Noble de Montbazon was born to Prince James and Catherine de Montbazon in 1924, Paris. When his family moved to Lovia in 1942 he was the one who adapted the most, even anglicizing his name to George in 1955. He was married in 1960 to Maria Torretasso, a member of the Czech-Italian branch of the house of Thurn und Taxis. In 1971 they had their first and only child, Princess Helena of Lovia, while in 1973 they went through a miscarriage. George and Maria would often be seen in Italy, where they spent half the year (they had a country villa in Florence). He and Maria were divorced in 1971, only to remarry in 1972 (quite lavishly) at The Olympia. He and Maria remained quite close until his death in 1999; she would die herself in 2001.
Princess Natalie
Edit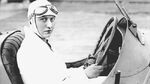 Natalie was born to Prince James and Princess Louisa in 1939. She was very much like her parents (in their early life) and was outgoing and did things not considered "appropriate" for women. As she was a member of the Royal family, her parents were rich and she was able to indulge in a pastime of racecar driving. She enjoyed driving classic Bugattis and Delahayes and was known to own even a 1926 Bentley. In 1959 she participated in the inaugural Vickers Sprint Rally. In the Abby Highlands portion of the race, she slammed her car into the wall of a cliff and died of her wounds. There is a plaque at the spot commemorating the race's first casualty. She became engaged to Vincenzo Moretti in 1958, but she died before they married.
Prince Henry
Edit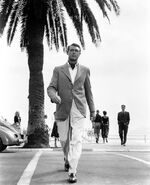 Henry Chase was a Lovian businessman. He was born in 1918 into the Chase family, of Scottish origin, who amassed a large fortune in shipping. He was born to Alfred Chase Sommers and his Swiss wife Marceline Durosier, who came from a wealthy banking family. In 1943 he met Princess Caroline of Lovia in Noble City. They were married in 1944 apparently to "legitimize" the birth of their daughter Louisa Chase. In 1947 they also had a son, David Chase. Henry and Caroline took to holidaying in Monaco, where they owned a small flat. Henry died in 1980 after a prolonged sickness.
Princess Maria
Edit
Maria (b. 1926) was born to Prince Massimo of Torre e Tasso (1890-1955) and his wife, Princess Martina Louisa (1891-1981). She was baptized in Italy, and her godparents were her grandparents, Pieter and Sophie, the ruling monarchs of Brunant. Her birth came as a relief to her parents, as the couple had been trying for years, Martina was getting old and they were drifting apart. They moved to Florence in 1938, and her father may have been involved with the Italian Army during that period. In 1957, she fell in love with a young Lovian prince, George. The two were married in 1960 and they had a daughter in 1969, Princess Helena, and a miscarriage in 1972. Maria and George would often be seen in Italy, where they spent half the year (they had a country villa in Florence). She and George were divorced in 1971, only to remarry in 1972 (quite lavishly) at The Olympia. She and George remained quite close until his death in 1999; she would die herself in 2001.
Princess Helena
Edit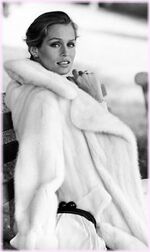 Helena was born in 1969 to Prince George of Lovia and Princess Maria. She was an only child. Young Helena grew to become very beautiful, attracting the attention of many suitors, even from Russia. The princess had a plethora of romances, and eventually married Anthony Mortensen. She has had two children with him, Josephine Mortensen and Albert Mortensen. Since Helena's maternal grandmother was a daughter of King Pieter II of Brunant, the princess is 66th in the line of succession of Brunant, though in the Line of succession to the Lovian throne she ranks higher up, at sixth.
Prince David
Edit
Prince David was born to Princess Caroline and Prince Henry (Henry Chase) in 1968 in Noble City. David began to disassociate himself from the Royal family and the extravagant life lived by his sisters. In 1986 he resigned from the line of succession and left the Royal Palace. His first move was to go to Canada, doing various jobs under the name David Noble. He moved to the USA in 1988 and studied geology at UCLA. He started teaching Earth Science at a high school in a village outside of Los Angeles, while maintaining his education, and in 2002 he moved back to Lovia, living in a modest townhouse in Noble City. He is currently a starting professor at Blackburn University.
Ad blocker interference detected!
Wikia is a free-to-use site that makes money from advertising. We have a modified experience for viewers using ad blockers

Wikia is not accessible if you've made further modifications. Remove the custom ad blocker rule(s) and the page will load as expected.