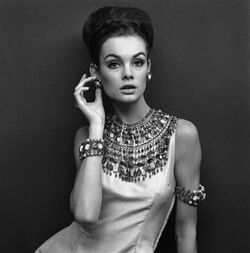 Jacqueline Ann Grable (born 1937) was a Lovian fashion model and the granddaughter of Silvia Coningham. She was born to Richard Grable and Louise Finley.
Professional career
Edit
Her fashion career began in 1961 and lasted until 1973. She often changed hair styles and color for her photoshoots. In 1965, she married French fashion designer Albert Tremaire. She often appeared in Magazine Mode.
Some of her classic photo's were featured in the very first issue of Koe'Koe, a Libertan magazine for arts and culture. A famous dress she wore in 1962 hangs in the Museum of Art.
Ad blocker interference detected!
Wikia is a free-to-use site that makes money from advertising. We have a modified experience for viewers using ad blockers

Wikia is not accessible if you've made further modifications. Remove the custom ad blocker rule(s) and the page will load as expected.