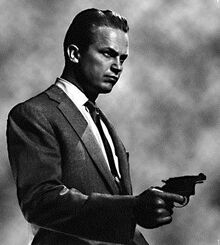 Intrepid, or Intrepid's Escape, is a 1971 Lovian spy film about Victor Kaput, a Hungarian-born reported spy, played by Nicholas Sharpe. It chronicles his tales as a supposed spy in the Soviet Union, USA, East Germany and Lovia. It tells of his final escape from prison and his death. Caroline Koch played intrepid's lover.
Reception
Edit
Though the 1963 movie The Spy, which was very similar, had been successful, the directors feared that Intrepid would not be as successful, since "people might be tired of spy movies already."
However, Intrepid was very well received by the general audience and was more successful than The Spy.
During the premiere at the Olympia Hotel, a gunman went on a shooting rampage, leaving 1 (Nicholas Sharpe) dead and 6 wounded.
Ad blocker interference detected!
Wikia is a free-to-use site that makes money from advertising. We have a modified experience for viewers using ad blockers

Wikia is not accessible if you've made further modifications. Remove the custom ad blocker rule(s) and the page will load as expected.