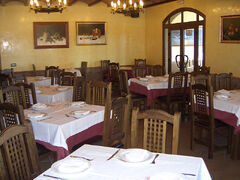 Ingolstadt is a restaurant in Charleston, Lovia. It only serves German dishes, especially of Bavarian cuisine. Ingolstadt has had mostly good reviews so far.
The restaurant was founded in 2007, by German-Lovian Heinz Cennburg, who used to work in other restaurants in Noble City. Heinz named it after his father's hometown, Ingolstadt. In 2010, there was a large fire in the kitchen.
French fries
Griebenschmalz
Knödel
Pretzels
Krautsalat
Potato salad
Wurtsalat
Main courses
Edit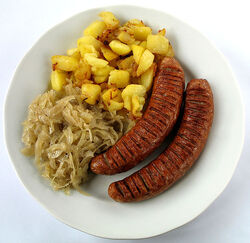 Bratwurst
Brotsuppe
Cabbage rolls
Currywurst
Hochzeitssuppe
Leberkäse
Pichelsteiner
Sauerbraten
Schnitzel
Schupfnudel
Weißwurst
Apfelstrudel
Germknödel
Rote Grütze
Good food, nice ambient, excellent service. The price however is a little high.

-Guide Cinq Etoiles
Ad blocker interference detected!
Wikia is a free-to-use site that makes money from advertising. We have a modified experience for viewers using ad blockers

Wikia is not accessible if you've made further modifications. Remove the custom ad blocker rule(s) and the page will load as expected.