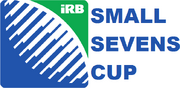 The
IRB Small Sevens Cup
is a tournament like the actual IRB Seven world series but for minor and less known rugby nations. The tournament is based off four tournaments with 10 core teams, but unlike the series those are the only teams that play in this series. The series was spearheaded by
Lovian
politician and sportsmen
Marcus Villanova
to the IRB board in early 2011, and was set up next year in 2012.
Core teams, Venues, and Rules
Edit
The core teams chosen by the IRB Sevens board were 10 main nations, which currently didn't participate in the Sevens tournament. The nations themselves didn't have to be "small" in size, like the core nations Germany and Sweden. The 10 Core nations are:
In 2012 Canada and Uganda played in the four tournaments of the Cup, but Canada left after dominating the first year and Uganda failed to file papers to continue playing in the Cup. The IRB was also looking into, not allowing these teams to play due to their sheer size and excellence of play compared to the other nations. Liechtenstein and Jamaica were added to the tournament in 2013 to have 10 core nations.
Former Core teams
Edit
Tournaments
Edit
These nations play in random groups each time, with the top five teams receiving points. The team at the end of the series with the most points wins the tournament cup.
1st place - 10 points
2nd place - 7 points
3rd place - 5 points
4th place - 3 points
5th place - 1 point
Additional game rules include halves being seven minutes, usually with all final games including final 7th and 8th place games being 10 minutes per half. All wins are four points and draws are two points, with loses bringing no points. Bonus Points are also given to teams that score four or more tries in a match and one point to a team that loses but by less than seven points. Groups are all randomized and the winner of group one verses the second place of group two, etc.
The venues that are played in each year are as followed:
Second - Berlin, Germany
Third - San Fransico, United States of America
Fourth - Stockholm, Sweden
Fifth - Brussels, Belgium
A tournament was played in Vancouver, Canada in the third slot in 2012, but was dropped after Canada left the tournament. The fifth tournament of Brussels was added in 2013 to lengthen the tournament.
Ad blocker interference detected!
Wikia is a free-to-use site that makes money from advertising. We have a modified experience for viewers using ad blockers

Wikia is not accessible if you've made further modifications. Remove the custom ad blocker rule(s) and the page will load as expected.