This page or article section is under construction.

You are welcome to assist in its construction by editing it. You may want to discuss on the talk page before making major edits.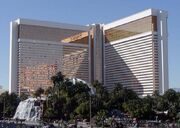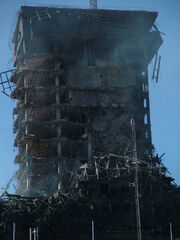 Hotel North is a Lovian hotel in the Hurbanovan neighborhood Millstreet. The original 45-storey high building was the highest of Hurbanova and even Lovia and was built for the thousands of tourists visiting Hurbanova each year. The new hotel is smaller but can still hold a few hundred tourists.
Visitors
Edit
Many tourists first came to Hurbanova for the cultural history of the town. Later on they also discovered the interesting forests and beaches, like the Oceana Beach, in the state of Oceana. Since that Millstreet was built many tourists also come here to visit the Oceana Museum or Casino Hurbanovo. Other people come to the hotel because relatives or friends lay in the nearby Hurbanoval Hospital or in the Rest Home Millstreet. Another group of people come here to visit the games of FC Hurbanova.
Demolition
Edit
Even though it was a relatively young building, it wasn't fire-proof and so it caught fire on November 14, 2009. The following day it was decided that the building would be blown up. The blasting was done on November 16 and was successful.
A new hotel with the same name was built a year later, but because of financial problems there was a long delay. Work continued in August 2010, but stopped after that. In 2012, the project was finally finished and now the hotel is part of the larger Hotel North Shopping District.
Ad blocker interference detected!
Wikia is a free-to-use site that makes money from advertising. We have a modified experience for viewers using ad blockers

Wikia is not accessible if you've made further modifications. Remove the custom ad blocker rule(s) and the page will load as expected.