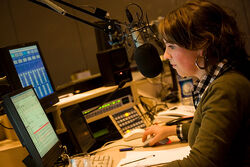 Hope Flanders (Noble City June 21, 1979) is a Lovian radio host and personality for Rockafellow. She hosts her own show, Radio Hope, on weekdays. Hope Flanders is known for her fresh feel-good style.
Personal life
Edit
The Flanders Family are recent immigrants from New Hampshire, US. Hope was born in 1979. Her father Nick was a fireman, whereas her mother wrote gardening books. She grew up in Artista, Noble City.
Hope Flanders was married to Jamie Bush until 2008. She divorced him on grounds of domestic violence. The couple did not have any children yet.
See also
Edit
Ad blocker interference detected!
Wikia is a free-to-use site that makes money from advertising. We have a modified experience for viewers using ad blockers

Wikia is not accessible if you've made further modifications. Remove the custom ad blocker rule(s) and the page will load as expected.