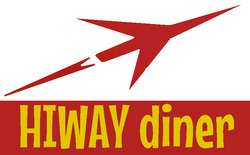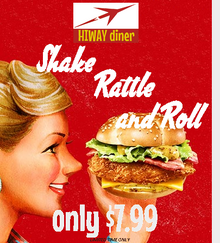 Hiway Diner is a fast food restaurant chain based in Sofasi. Hiway Diner opened in 1957 in Milerose and spread throughout Lovia. Hiway Diners became known for their space-age architecture, largely remodeled in the 1970s but seeing a return the past five years. Apart from their traditional classic and deluxe burgers, they offer a number of special burgers named for 1950s and 1960s songs.
The Hiway Diner opened in 1957, but only became a chain in 1969, when a second opened in Noble City.
The first Hiway diner logo featured a fun 1950s font and a rocket logo. This was replaced in 1971 with a logo placed between two hamburger buns. A complete redesign in 1988 featured a hamburger design and more modern text. In 2006 a new logo using the 1950s font and a rocket design similar to the original.
Architecture
Edit
Hiway Diners features mid-century googie/space age architecture for its first restaurants. In 1969 they introduced a traditional looking brick restaurant design and most of the original diners were remodeled. In 2006 the company introduced a retro restaurant design. The original restaurants have been renovated.
Classic: Hiway's classic burger - $6.50 ($3.75 sandwich)
Classic with cheese: with cheese - $7.00 ($4.00)
Deluxe: all the fixin's and Hiway's Hi-Fi Sauce - $8.25 ($4.50)
Deluxe with bacon: with smoked bacon - $8.55 ($4.70)
Rocket 88: Classic with a kick
Ring of Fire: with Hi-Fi sauce and hot peppers, if you dare
Beyond the Sea: breaded fish
Shake Rattle and Roll: with breaded chicken, glazed rolls and milkshake
You Never Can Tell: with waffled potato patty, square meat patty and mystery sauce
Jumpin' Jack Flash: with Monterey Jack Cheese and hot sauce
$9.50
Kid's Meal: burger or chicken fingers, small drink, fries and toy - $5.50
S M L
Chicken fingers - $4.00 $5.00
Fries - $2.00 $2.40 $2.85
Soft drink - $1.95 $2.29 $2.55
Milk - $2.00 $2.40
Special offers
Edit
Shake Rattle and Roll: only $7.99 for a combo in summer 2016
Eight Miles High (limited time offer): A tall triple classic backed with waffled potato patties and Hi-Fi sauce. $10.75
Restaurants
Edit
Ad blocker interference detected!
Wikia is a free-to-use site that makes money from advertising. We have a modified experience for viewers using ad blockers

Wikia is not accessible if you've made further modifications. Remove the custom ad blocker rule(s) and the page will load as expected.