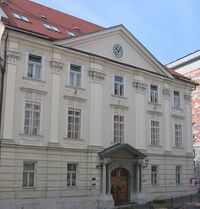 Heritage Avenue is an east-west avenue located in north-central Noble City, Sylvania. It begins in the neighborhood of Citizen Corner, travels through The Mall, and ends in the neighborhood of Little Europe. Heritage Avenue is most notable for its two most famous buildings, the Starovlah Institute and 6 Heritage Avenue. The avenue is located north of Democracy Avenue and south of Innovation Avenue.
Route description
Edit
The route from Citizen Corner through Little Europe:
See also
Edit
Ad blocker interference detected!
Wikia is a free-to-use site that makes money from advertising. We have a modified experience for viewers using ad blockers

Wikia is not accessible if you've made further modifications. Remove the custom ad blocker rule(s) and the page will load as expected.