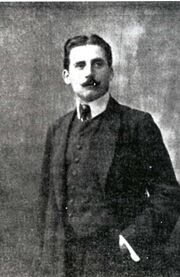 Herbert Graham (Deptford UK, 1889 - Noble City, 1946) was a British-Lovian carpenter and the ancestor of the Graham Family in Lovia. He was married to Mildred Bernanke and fathered two sons and one daughter.
Early life
Edit
Herbert Graham was born to a British sailor and his Dutch wife as their second son. Herbert's mother died during delivery. He was raised by his paternal aunt in a London suburb. He attended a state-funded primary school. He quit school during the third year of secondary education. Herbert worked on the Deptford Dockyard until 1909.
Herbert moved to Lovia in 1909. He married the American Mildred Bernanke in 1926.
Carpentry
Edit
He founded his carpentry business in Noble City in 1909. It became very successful in the 1920s. After Herbert's death, his eldest son Edward Graham led the business. Graham's Carpentry is now led by Herbert's granddaughter Ashley Graham and her husband Nick Herrmann.
Offspring
Edit
Herbert Graham and his wife Mildred had three children: Edward (°1929), James (°1933), and Mary (°1934). As of 2010, fourteen living persons in Lovia descend from Herbert and Mildred Graham.
See also
Edit
Ad blocker interference detected!
Wikia is a free-to-use site that makes money from advertising. We have a modified experience for viewers using ad blockers

Wikia is not accessible if you've made further modifications. Remove the custom ad blocker rule(s) and the page will load as expected.