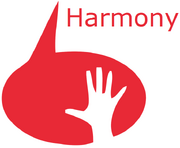 Harmony
is a union in Lovia which represents healthcare workers across all types of work, in all five states of Lovia but mainly in
Kings
and
Clymene
. The Union was founded out of a walkout in 2009 of the nurses in
Sofasi
, and decided to form a Union. The co-founders and current executive of the Union are Harriet Reynolds, Mark Frut, and Christopher Moore. The Union currently has about 475 members in the healthcare industry and mainly represents nurses and home care workers in Clymene and Kings.
The Union was affiliated with the Labour Party in January of 2013 but became unaffiliated as the Labour Party ended.
Contracts with Clymene hospitals
Edit
About 220 nurses and doctors are contracted to the state universal healthcare hospitals in Clymene such as Oos's Home and Hospital, Villanova Hospital and Adoha Hospital. The latest contract for these workers shows a 3% rise in pay set over the next three years for all workers. The contract is set to expire in 2016, but seeing as relations are good no strike will take place.
Ad blocker interference detected!
Wikia is a free-to-use site that makes money from advertising. We have a modified experience for viewers using ad blockers

Wikia is not accessible if you've made further modifications. Remove the custom ad blocker rule(s) and the page will load as expected.