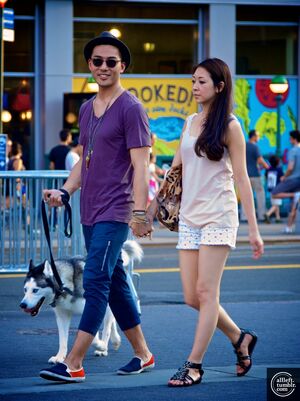 Gwok Youth (a word play on the Sofasi Bredish slang word 国语 Gwok Ju, "Chinese") is a freak folk/indie pop duo from Nóngyè, Clymene. The band is signed to Warped Records and is very popular among the Chinese minority living in Clymene.
Gwok Youth consists of Jake Tan and Ann Hsü, a couple from Nóngyè. They have worked together with Rain King, The Diamond Sea, 4x4 and 3Lan006.
Gwok Youth releases tongue-in-cheek, psych influenced freak folk and noisy indie pop compositions. The weird, quirky music is mainly written by Jake Tan and sung by Ann Hsü. Tan plays keyboard and uses a mixer, sampler and laptop on change, while Hsü plays guitar.
Discography
Edit
Ad blocker interference detected!
Wikia is a free-to-use site that makes money from advertising. We have a modified experience for viewers using ad blockers

Wikia is not accessible if you've made further modifications. Remove the custom ad blocker rule(s) and the page will load as expected.