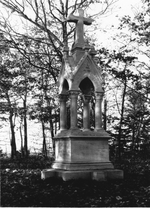 George's Point is the northernmost point of Asian Island and hence of the entire Lovia Archipelago. George's Point can be reached by car from Adoha, Clymene.
It is named after George Arnmod, whose memorial is located here. His brother Robert Arnmod died off the coast in a suspicious accident during a boat race in 1906, and George wanted to be buried as near as possible to his brother's final resting place. Allegedly, the memorial was commisioned by Arnmod himself, who took a photograph of it before his death.
See also
Edit
Ad blocker interference detected!
Wikia is a free-to-use site that makes money from advertising. We have a modified experience for viewers using ad blockers

Wikia is not accessible if you've made further modifications. Remove the custom ad blocker rule(s) and the page will load as expected.