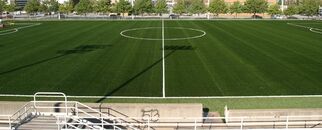 Galactic Park is a soccer field in Drake Town and is the home of FK Galactic Hurbanova. In 1960, a part of Francis Drake Park was bought for use by the club and a soccer field was made. In 1964 a stadium was built, which was expanded in 1969 to hold 1000 people. Over time, attendance dropped and the stadium was dismantled in 1995. When Galactic was revived in 2011 the field was used again, and open-air stands were built, seating 2500 people.
This article is a stub: a short article with a useful amount of information, but that should definitely be expanded.
You can help Wikination by expanding it.
Ad blocker interference detected!
Wikia is a free-to-use site that makes money from advertising. We have a modified experience for viewers using ad blockers

Wikia is not accessible if you've made further modifications. Remove the custom ad blocker rule(s) and the page will load as expected.