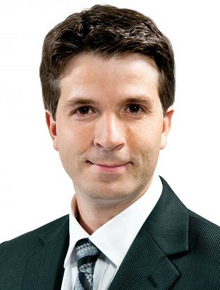 Gabriel Mark Kovac (born September 19, 1977) is a Lovian politician and activist. Kovac was the deputy leader of Lovian Future, and was an integral part of establishing the party, contributing to the writing of much of its early policies.
Kovac was born into a working-class family in the suburbs of Hurbanova. His father was from Oceana, having been born and grown up in the area, whilst his mother was from the nearby Stephen Headland. Kovac grew up bilingual, speaking both English and Oceana at home. Kovac's parents were both liberal, social democrats, and he grew up with an interest in politics. After leaving university, he started a career as a local politician, hoping to bring about a more progressive, socially liberal Oceana, as the state had long been dominated by conservative Christian politics. In late 2014, Kovac met Katie Conroy, and they began working together on several political advocacy campaigns. He was a founding member of Lovian Future, which Conroy established in 2015.
Ad blocker interference detected!
Wikia is a free-to-use site that makes money from advertising. We have a modified experience for viewers using ad blockers

Wikia is not accessible if you've made further modifications. Remove the custom ad blocker rule(s) and the page will load as expected.