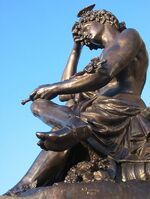 The Front Gardens are gardens around Palati Daidalo in King's Gardens, Noble City. It contains several large, bronze statues. Two of those are the seawater-preserved bronzes now called Mercury which required painstaking efforts to bring them to their present state for display in the Front Gardens of the Palati Daidalo in Lovia. Lars Washington was influential in supporting these efforts.
Ad blocker interference detected!
Wikia is a free-to-use site that makes money from advertising. We have a modified experience for viewers using ad blockers

Wikia is not accessible if you've made further modifications. Remove the custom ad blocker rule(s) and the page will load as expected.