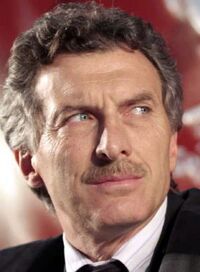 Frank Willem Joseph Hagen (1953, Nieuw Helmond, Brunant) is the former Brunanter ambassador to Lovia. He is the son of Elise Hagen, a famous resistance fighter during WWII.
Political career
Edit
Frank Hagen was one of the founding members of the Groen Party (Green Party) in 1975. He was the party chairman from 1982-1986 and served as the Representative for Brunant Parish from 1980-1995. In 1997, he was appointed Defense Secretary, a move which angered conservatives since he de-militarized the country. Since 2004, he has been Brunant's ambassador to Lovia.
On May 24, 2012, there was a bombing attack in Clermont House in New Town, Noble City, where the embassy of Brunant is located. Hagen was the target but wasn't injured; another staff members was injured and sent to hospital. Hagen resigned in July 2012 and was replaced by Tania Figueras-Costa.
Ad blocker interference detected!
Wikia is a free-to-use site that makes money from advertising. We have a modified experience for viewers using ad blockers

Wikia is not accessible if you've made further modifications. Remove the custom ad blocker rule(s) and the page will load as expected.