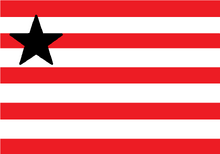 The Flag of Clymene is the official flag of the State of Clymene. The current version was authorized by the Governor in August 2012. It replaces earlier flags, of which there have been 3 in total. The current flag is based on the 1889 Unity Flag and is one of the oldest flag designs in Lovia, even older than that of the Lovian flag. The stripes represent the Unity Flag and the star represents the north star and Clymene (the north state).
Unity Flag
Edit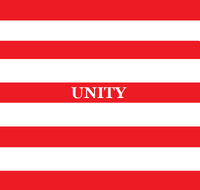 The earliest flag used in Clymene (then the North Territory) was the Unity Flag of 1889. It was used in a time when the state was in favor of a republican government and in having their own sovereignty. A small armed skirmish between 31 republican men from west Sofasi and 28 pro-Lovian men (in 1892) resulted in a republican victory and the start of an independent north.
State flags
Edit
Following the integration into Lovia, a Blue-and-white Royalist flag came into use as the state flag. Most citizens disliked it, but the heavy reach of Governor Geoffrey Rider ensured that it stayed in use. In 1923 republican governor Michael Bradley replaced the Royalist flag with the Unity flag. In 1930, he had it replaced with a new flag, icorporating the royalist Blue, but with white and red as well. The new design generated much controversy among conservatives since it featured a naked goddess. Designed by local artist Amelia Anson, it continued in use until 1965 when state lawmakers, under pressure from many sides, passed a law removing an official state flag. For many years aferwards, a state seal on a white background would be the de-facto flag, though the Bicolor, the Unity Flag and Anson's flag were all used unofficially by citizens. In 2012, an entirely new flag was designed, which incorporated the black star from the seal, and the stripes of the Unity flag.
Ad blocker interference detected!
Wikia is a free-to-use site that makes money from advertising. We have a modified experience for viewers using ad blockers

Wikia is not accessible if you've made further modifications. Remove the custom ad blocker rule(s) and the page will load as expected.